810 Urs Mubarak, Urs Festival 2022 More...
The Visiting Devotees Ajmer Sharif Dargah Shrine of Hazrat Khwaja Moinuddin Chishti, Khawaja Ghareeb Nawaz Shrine in Ajmer Sharif Dargah Rajasthan India
Free Help
the visiting devotees Ajmer e Sharif Dargah of Hazrat Khwaja Ghareeb Nawaz Ajmer Shrine in Rajasthan India to attend the Holy ceremonies of Dargah Ajmer e Sharif & get their wishes fulfilled. If ur family member or relatives face any problem u can email or call me to get all ur solved problems Ajmer Sharif Dargah Prayers Dua
---
Best Time to Visit Shrine in Ajmer Shareef Darbar Khwaja Pak (r.a) Ajmer Shareef Dargah in Rajasthan India
Timings to Visit Shrine in Ajmer Shariff Dargah, Ajmer Shariff Shrine Darshan opened time & Closing time More.
Online Booking Services for The Degh Cauldrons Ajmer Dargah ki Big Badi Small Choti Deg of details More
In the early morning at 4:30 A.M. i.e. before Namaz-e-Fajar the gate of holy Astana is gets opened Ajmer Sharif Dargah live Darshan timings Ziyarat Ajmer Sharif Darbar OPENING TIME 5:30 A.M, gets opened.

Function of doing Ziarat, offering flowers and chadar by Devotees and Zaireens on Mazar Sharif of Hazrat Khwaza Gharib Nawaz, Hazrat Khawaja Moinuddin Chisti continue through out the day.
Ajmeer Sharif Dargah Mannat wish of Darbar Khwaja Garib Nawaz Mazar Mannat wish, website More..
Function of removing & cleaning of flowers offered during the day is called Khidmat (Service) of Ajmer Sharif Mazar this is done during daytime between 3 to 4 o'clock.
Mamool (closing of gate of Mazar) in the night at 9 P.M. the gate of Holy Mazar-e-Akdas is gets closed Ajmer Sharif Dargah live Darshan timings Ziarat Ajmer Sharif Shrine of Khwaja Moinuddin Chisti DARBAR CLOSING TIME 9 P.M. gets closed.
Holy Belongings Tabarrukat Ziarat Hazrat Khwaja Gharib Nawaz (R.A), Ziyarat Ajmair Sharif Dargah Rajasthan India
---
Qawwali Videos Shrine in Ajmer e Sharif Dargah Khawaja Garib Nawaz Khwaja Moinuddin Chishti DARBAR Sama - Qawwali, Sufi Music Songs Ajmer e Sharif Dargah in Rajasthan India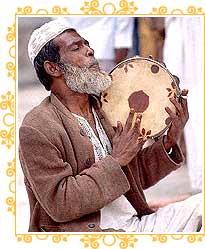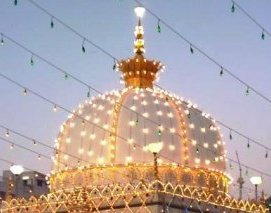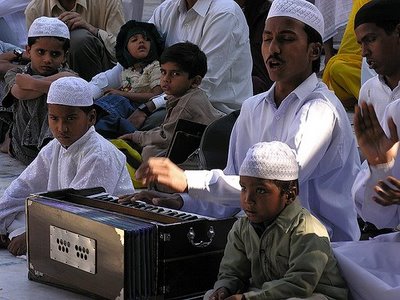 Origin And Conception

The root of the word Qawwali is Qa'ol which is an Arabic word meaning an axiom or dictum based upon the religious subjects which help purification of thoughts. From the word Qawwali we also get another word Qawwali which means a musician or singer who sings the hymns or praises of God and dictums of the prophets, saints and other holy personages in Arabic, Persian, Urdu and even Hindustani composed by reputed Sufi saints and poets. These Qawwali concerts are magnetic in nature and touch the delicate cord of human heart which, being ethereal, is the main centre of spiritual awakening in man. The Khawaja Sahib not only introduced but also patronised these concerts to capture and mould the hearts of his audience for accepting the Divine Message gracefully. More...
---
Ziyarat of Darbar Khawaja Ghareeb Nawaz Shrine Ajmer e Sharif Dargah opened time & Closing time, website More.
Holy Belongings Tabarrukat Ziarat Hazrat Khwaja Gharib Nawaz (R.A), Ziyarat Ajmeer Sharif Dargah Rajasthan India
Prayers of devotees of Hazrat Khwaja peer Garib Nawaj Ajmer Sharif Dargah Dua offers prayers Mannat wish More..
---
Online Booking Hotels in Ajmer Sharif near Dargah Hotel,
Accommodation in Ajmer near Dargah Hotels Booking Online More...
---
An airport near Ajmer has been proposed by the Government of Rajasthan. It is expected to be operational in the year 2012. At present the nearest airport is the Jaipur International Airport, about 132 km away, with flights connecting several major cities in India.
Domestic Airport is located at Jaipur "The Pink city of India" Hosting air line services to the major cities in India.

Various Bus & Car Services are available including the Government services providing safe transportation.

Indian Railway is commited to serve the devotees who comes for the blessing of khwaja. Ajmer is one of the major Junction in India.